UPDATE: All is well. The Yoga police have relented. Yoga is back.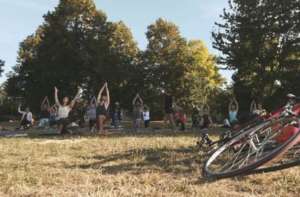 The news has just broke. The City of Vancouver Park Board, also known as the no-fun board, is SHUTTING DOWN FREE YOGA IN DUDE CHILLING PARK!
WHY?
This cannot fly, this is an injustice, this is wrong. For years, people from all walks of life have been enjoying free yoga, twice daily in the summer, in Guelph AKA Dude Chilling Park.
To be truthful, the Park Board says that the group delivering free yoga classes, will need a permit to continue, "Permits ensure if there is an issue, we know who to talk to," [Vancouver park board chair Michael Wiebe] explained in a phone interview. "It's more of a coordination thing."
But the organizers of the park's yoga classes run the classes on a donation basis and do not have the means to pay for the nearly $4,000 in permits for the free, community-based events.
There you have it, no yoga classes in the park. Here are the 9 reasons why the Park Board's move to restrict yoga in the park is wrong, and what you can do about it.
Social isolation is a major problem, maybe one of the biggest in Vancouver. Yoga makes people happy and gets them outside and interacting with each other.
Affordability is a major problem in Vancouver. You may surprised to hear this place is an expensive place to live in, and those $25 drop-in classes in Kits and Yaletown aren't exactly accessible. Dude chilling yoga welcomes low and no-income practitioners. "I grew up under the poverty line and know first-hand what it's like to have so many comforts of life be beyond my reach. I firmly believe that yoga should be one of those comforts," says a person to a local newspaper.
Bad health – obesity, heart disease, stress, diabetes, etc. – are MAJOR problems in society. Yoga helps to resolve some of these first world problems.
Fun, happiness – Vancouver has a reputation as a no-fun city, a playground for the rich only. DCP yoga is fun and dozens of people enjoy it on a daily basis.
What about all the other stuff that goes on in parks? There is singing, picnics, renaissance swords fighting, cosplay, kickball, and others things happening. WHY DOESN'T MR PARK BOARD CHAIR WIEBE TAKE DOWN THE SINGING AND PICNICS TOO?! There's also some mean games of hackysack going on – with at least 10 people, routinely.
Inclusion: "There have been homeless people here practicing with us and professional and travellers and people who are students and things like that," said yoga participant Ryan Stevenson. Sorry Ryan, not any more. From now on the rich will go to their swanky Kitsilano yoga studios to enjoy their BPA-free yoga mats and lemon spritzers, while the middle class and under practice dangerous home yoga.

Stifles spontaneous, community-activated, entreprenurialism.
Other stuff: What about all that heroin-injecting and gang gunfighting that's going on this city? Yoga is at least 20% safer than that.
Return on Investment: Two hours of permits for one day of yoga is about $40. Free yoga has a return on investment of $40 per hour, PER PERSON, in ancillary benefits. Like healthcare savings. 40 participants x $40 = $1,600 in benefits to the public. Make the investment in free yoga, not city hall red-tape.
WHAT CAN YOU DO??!??!
Email the Park Board anti-fun police commissars at PBcommissioners@vancouver.ca
Email the anti-fun Mike Wiebe Park Board Overlord at michael.wiebe@vancouver.ca
Tweet at the @ParkBoard – "Hand's off my #DudeChillingPark yoga!!!! #vanpoli #Eastvan #Vancouver".
Or retweet this:
The @ParkBoard is coming for you. They are coming for your #DudeChillingPark #Yoga #Resist https://t.co/PvcFct4w1P #vanpoli #Vancouver pic.twitter.com/cXuSyhZX6R

— Dude Chilling Park (@DudeChillingVan) May 30, 2017
Media
https://www.theglobeandmail.com/news/british-columbia/vancouver-park-board-tells-free-yoga-group-to-get-a-permit-if-classes-continue/article35140826/
http://www.metronews.ca/news/vancouver/2017/05/23/dude-chilling-park-yogis-park-board-requires-permit.html
http://www.straight.com/news/913426/park-board-requirement-permits-ends-free-yoga-instruction-dude-chilling-park